Golden Retriever and Labrador Retrievers as defined by wikipedia:
The Golden Retriever is a relatively modern and very popular breed of dog. It was developed as a retrieving dog to use while hunting wild fowl. Today it is one of the most common family dogs. It is easy to handle and very tolerant. It does not require very much of the owners, other than regular exercise. It is often affectionately known as Golden,or Goldie.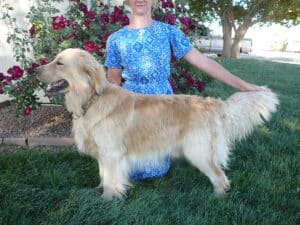 The Golden Retrievers' intelligence makes them versatile, allowing them to fill a variety of roles, including guide dog for the blind, hearing dog for the deaf, hunting dog,illegal-drug detector, and search and rescue participant. Because of their loyal and gentle temperament, Golden Retrievers are also popular family pets.
The Labrador Retriever ("Labrador" or "Lab" for short) is one of the most familiar breeds of dog. It is noted for its friendliness, intelligence, and obedience. Because of these traits they are often trained to be gun dogs and assistance dogs. They make good service dogs or guide dogs. Labrador Retrievers are the most popular breed of dog (by registered ownership) in both the United States and the United Kingdom.
Yellow (and similar shades)
In the early years of the breed through to the mid-20th century, Labradors of a shade we would now call "yellow" were in fact a dark, almost butterscotch, color (visible in early yellow Labrador photographs). The shade was known as "Golden" until required to be changed by the UK Kennel Club, on the grounds that "Gold" was not actually a color. Over the 20th century a preference for far lighter shades of yellow through to cream prevailed, until today most yellow Labradors are of this shade. Also fawn has been a common color in the yellow lab variety.
Interest in the darker shades of gold and fox red were re-established by English breeders in the 1980s, and three dogs were instrumental in this change: Balrion King Frost (black, born c. 1976) who consistently sired "very dark yellow" offspring and is credited as having "the biggest influence in the re-development of the fox red shade", and his great-grandson, the likewise famous Wynfaul Tabasco (b. 1986), described as "the father of the modern fox red Labrador", and the only modern fox red Show Champion in the UK. Other dogs, such as Red Alert and Scrimshaw Placido Flamingo, are also credited with passing on the genes into more than one renowned bloodline.
Chocolate labradors
Jack Vanderwyk traces the origins of all Chocolate Labradors listed on the Labrador Net database (some 34,000 Labrador dogs of all shades) to eight original bloodlines. However, the shade was not seen as a distinct color until the 20th century; before then according to Vanderwyk, such dogs can be traced but were not registered. A degree of crossbreeding with Flatcoat or Chesapeake Bay retrievers was also documented in the early 20th century, prior to recognition. Chocolate Labradors were also well established in the early 20th century at the kennels of the Earl of Feversham, and Lady Ward of Chiltonfoliat.
The bloodlines as traced by Vanderwyk each lead back to three black labradors in the 1880s—Buccleuch Avon (m), and his sire and dam, Malmesbury Tramp (m), and Malmesbury June (f). Morningtown Tobla is also named as an important intermediary, and according to the studbook of Buccleuch Kennels, the chocolates in this kennel came through FTW Peter of Faskally (1908).
Phoenix AZ Golden Retriever | Golden Retriever Breeder Phoenix | Phoenix Golden Pups For Sale | Phoenix Golden Retriever Dogs For Sale