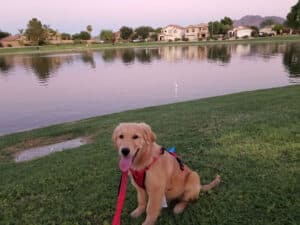 Hi, Sharon,
I thought I'd send you a picture of Toby so you can see what he looks like at 4 months old. He's getting along well with our senior Lhasa Apso, and they love to chase each other around the house and backyard.
He loves swimming in the pool every chance he can get. He's doing very well, in fact the vet called him a "perfect specimen" when he went in for his last round of shots on Tuesday!
Hope you enjoy the picture!
Kristin and Axel