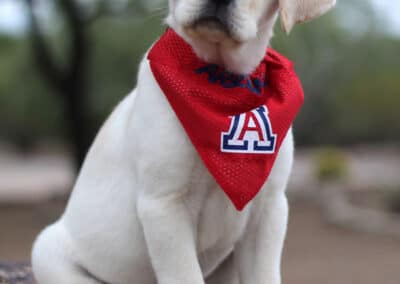 ​Hi Sharon,
I just wanted to give you an update on Gunnar. He is doing great and growing. On Thursday he went in for his 12 week check-up and he doubled his weight in 4 weeks and weights 22.2 lbs. He is a good boy, a bit feisty (he'll bark at you if you aren't paying attention to him when he wants), but loving. He is almost completely potty trained, every once in a while he can't hold it. He is smart and already knows when the door bell rings someone is at the door to see him (or so he thinks). He loves to be outside and is very friendly. We love him and are so thankful to have him as part of our family!
The picture with the UA bandana is from Thanksgiving
Sincerely,
Dana and Jim Murray
photo by Jami Hadley Photography
Drop Me a Line
Call now to reserve your puppy!